Mercury is a new-age neobank especially designed for IT startups. It is a cloud-based tool, not a bank, that lets businesses manage their finances and transactions online. 
Unlike a digital bank, Mercury is a financial technology company that has no physical location but handles its transactions through Evolve Bank & Trust. Their banking service is designed for startups, and it comes with startup-friendly features.
In this Mercury bank review, we will be giving you a detailed walkthrough of its features and pricing to help you decide whether it is a good option for you or not. 
What is Mercury Bank?
Mercury is a neo-banking service provided by Choice Financial Group and Evolve Bank & Trust. This service is designed for startup companies, and they brand themselves accordingly.
It comes with no fees and no minimum balance requirements. Some beneficial features Mercury offers for startups includes:
1.5% cash back on all purchases
Unlimited number of physical and virtual cards
Free 2-day shipping from hundreds of stores 
Mercury is an affordable option but caters to US-based businesses. It offers business checking and savings account without any monthly fees. To open an account, you need a US-based business and a federal Employer Identification Number. 
Though many international businesses can also open a Mercury account if their business is registered in the US, if the bank account owner resides or deals in several prohibited countries or regions, Mercury would decline the account opening request.
To read reviews and recommendations on companies like Gusto, Jasper, Surfer, ActiveCampaign, and other tools used by venture-backed startups, check out our Ultimate list of Startup Tools.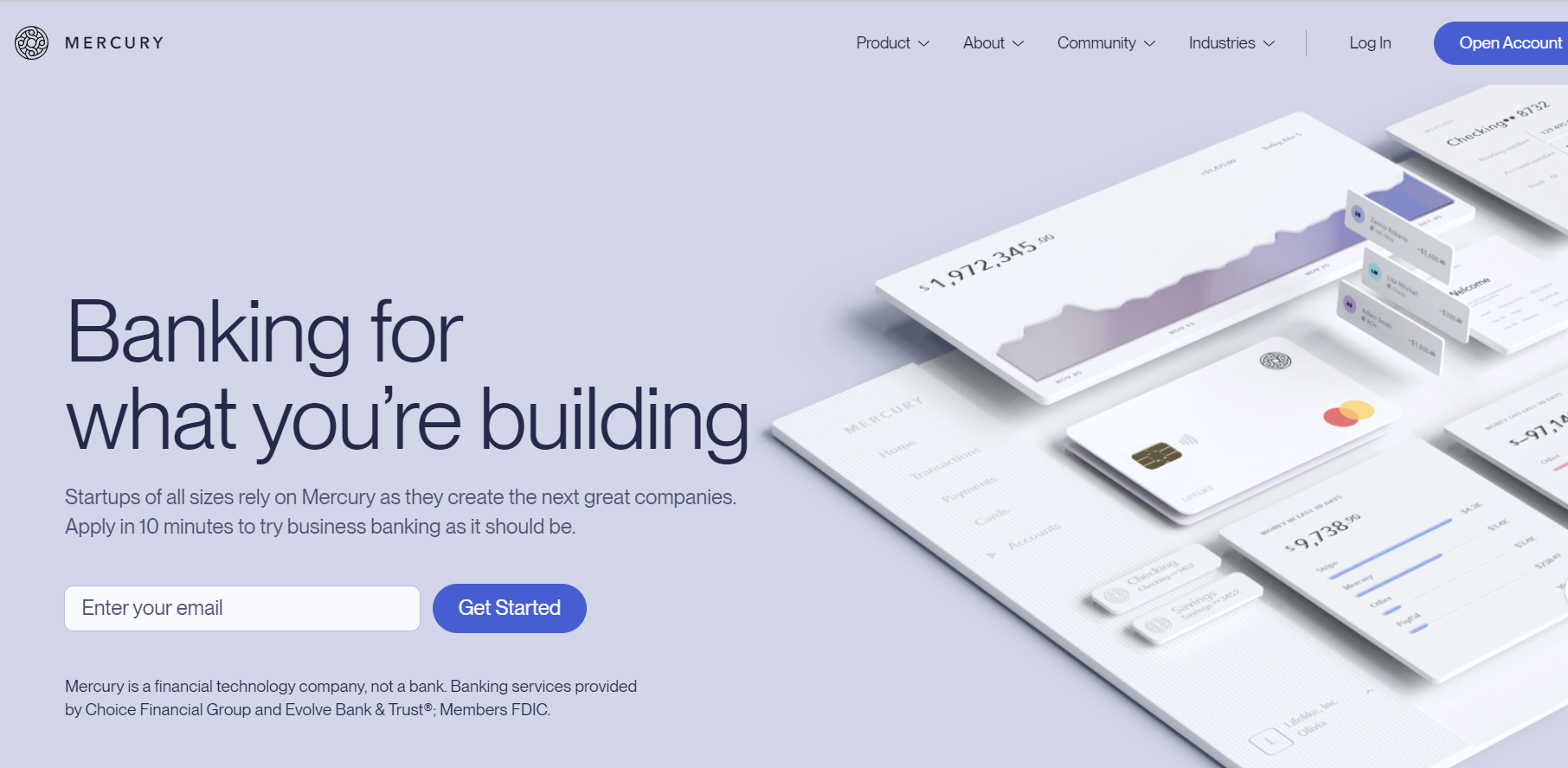 How Does Mercury Bank Work? 
For startups, Mercury bank works like a perfect banking solution. Creating a Mercury bank account is super quick and easy. 
You need an Employer Identification Number (EIN) and social security number, which is required for identification purposes. You would also need your company information documents and official ID or passport. 
You need to submit the account opening request online. That should be processed more quickly than you think — usually within five to seven business days. 
You can then choose from two business bank accounts: a checking account and a saving account. Both of these are designed for startups and require no minimum deposits. Plus, both accounts are insured for up to $250,000 by Federal Deposit Insurance Corp (FDIC).
Though the requirements aren't tough for any other business, other companies can open up their Mercury account, but the company does not serve sole proprietors or trusts. 
Other businesses which Mercury doesn't cover include adult entertainment, marijuana, internet gambling, and different high-risk business types.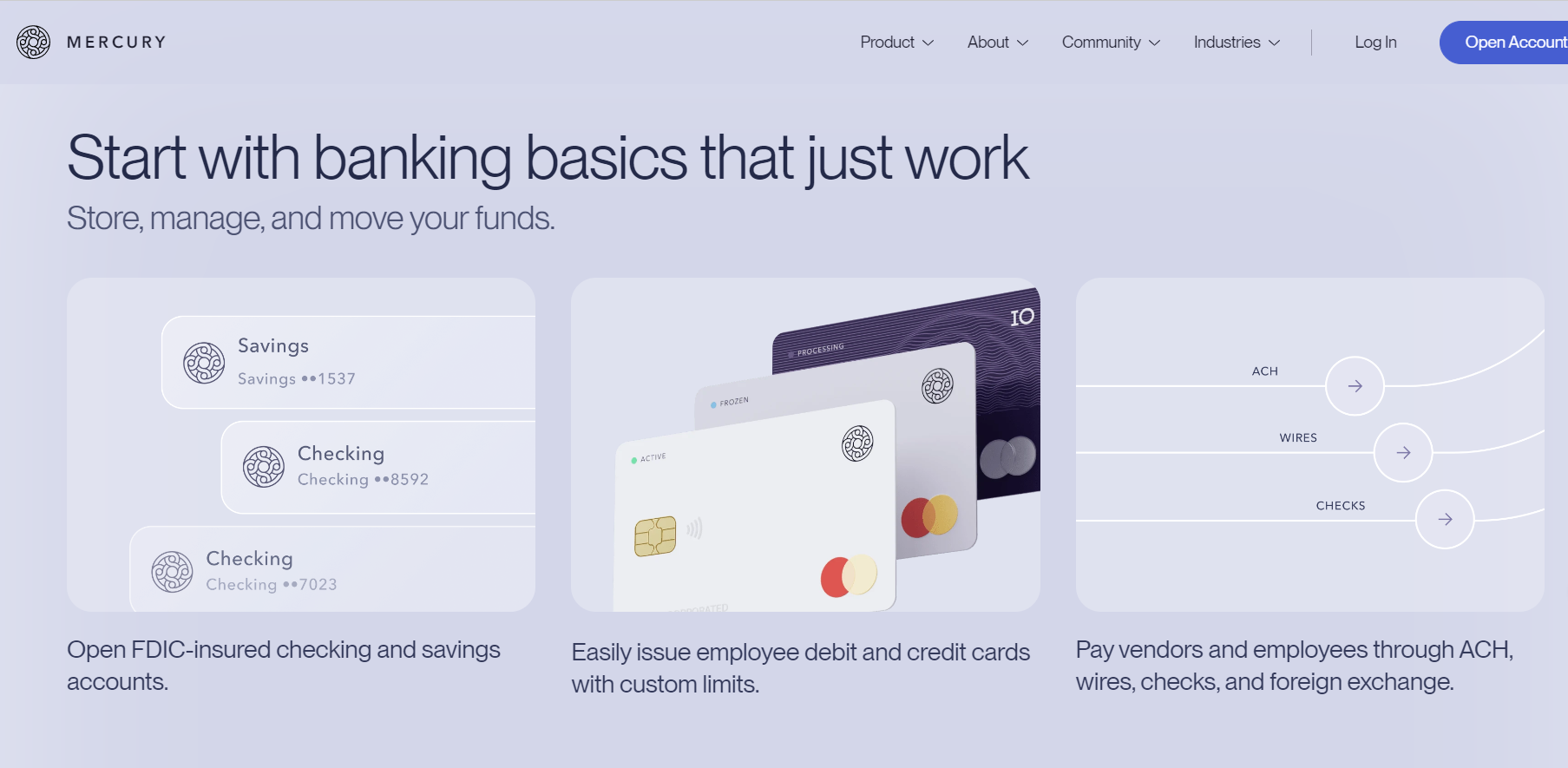 Key Features of Mercury Bank
Account Options
Mercury offers two standard banking account options: a business checking account and a business savings account. Both accounts are free to create, require no minimum opening deposit, free domestic wires, free USD international wires, and a 1% fee on currency exchange. 
Besides these, account holders can also access Mercury Treasury. It is an automated cash management account that allows you to put extra funds into US government securities and money market funds for yield. 
Account Eligibility Criteria
The eligibility criteria to open an account are simple and straightforward compared to other options. You must have a US company to provide details in the process. Other things you need include:
Employer identification number (EIN)
Social Security Number 
Official ID and Passport
Mercury doesn't support or open accounts for:
High-risk businesses
Sole proprietor or trust 
Businesses in the money service or internet gambling
Businesses dealing in high-risk countries
 
No Fees
The account types offered by the Mercury banking service, business, and savings are both free to create. You don't need to pay any account creation and processing fees. Plus, both of these accounts come with no transaction fees, no monthly fees, no minimum account opening deposit requirement, and no minimum balance requirement. 
Other free-of-cost features include free cash withdrawals through the Allpoint network and free out-of-network ATM use. But in out-of-network ATM usage, you might have to pay the fee applied by the ATM provider. 
For domestic and international wire transfers and sending & receiving checks, Mercury charges no overdraft fees.  
Digital Tools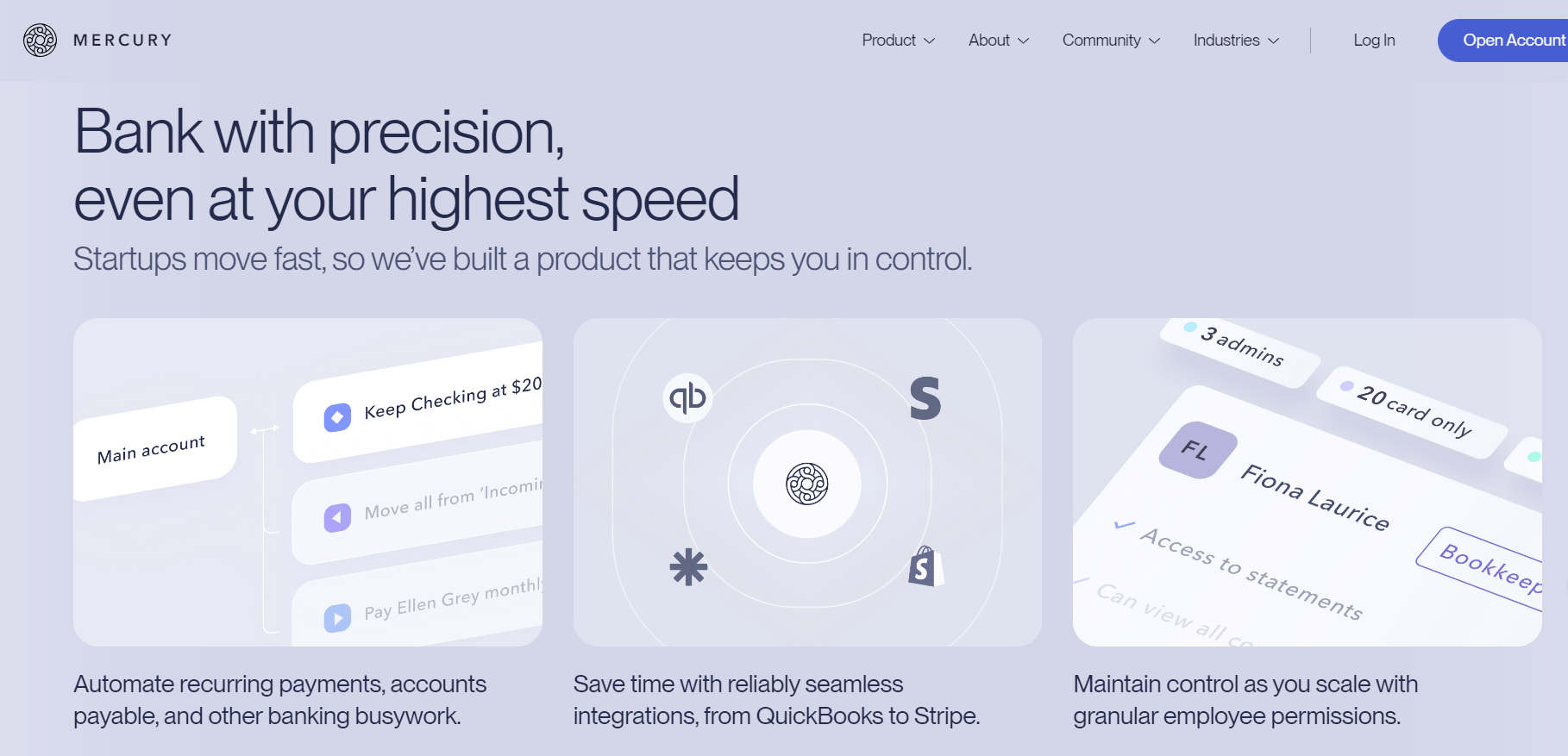 We've tried a lot of software, and Mercury comes with some of the best tools and features to make things easier on the user.
Mercury comes with built-in digital tools to help you:
Send and receive online payments
Track transactions
Cashflow analytics
Monitor spending
Create & manage virtual debit cards
You can also set a spending limit to your debit card, freeze it when you no longer want to use it, or add it to your mobile wallet for seamless transaction flow. 
You can also add your accounts and finance manager to your Mercury business account. It comes with two options for user access. 
You can add users as admins and give them the authority to move money, receive a debit card and manage its permissions, and add more team members as users and bookkeepers with access limits to your transactions history and account statements.  
API Access
API access is a great way to customize the service as per your needs and requirements. Mercury gives API access to all users, and savvy business owners will use the API to automate parts of their workflow.
This API access lets you automate and customize your mercury account by designing an internal dashboard, setting things for bulk payments, creating customized transfer rules, reconciling transactions, and more. 
Bill Payment
Mercury lets you handle your bill in a seamless way. You can pay bills with its smart Move Money flow. It lets you drag and drop bills directly onto the payments page. The system will automatically extract details from the document and fill up the required fields. 
You will need to review the details before sending the payment and done. You can set recurring payments flow to save you time and worries about the due dates.  
Credit Cards
Mercury was known for its debit cards, but it has recently launched a credit card for corporate businesses known as IO. Since Mercury doesn't have a high cash-on-hand requirement, this card becomes a great option for corporate businesses that don't qualify for other credit card options, like Brex. 
With IO, you get 1.5% cashback rates on all domestic and international purchases and no transaction feed. On all purchases, you'll instantly get cashback in your account. 
The application process for the credit card doesn't require a credit check. You need to repay the full payment of your IO balance on a monthly basis. The credit limit of your card is determined by your Mercury account balance. 
Debit Cards
Mercury is known for its virtual and physical MasterCard debit cards.
You can also create these debit cards for your employees and set custom limits. It lets you track their total spending. However, you will not receive rewards, points, or cashback on using the Mercury virtual debit card. 
Deposit & Transfers
With Mercury, you can add checks to your account using the mobile app. You can add funds to your account using the ACH transfer and send no-cost domestic and international wire transfers. 
However, to send international payments, Mercury suggests using a third-party solution, Wise, formerly known as TransferWise, for international payments. Besides these, Mercury doesn't accept cash deposits at this time. 
Startup Tools
In addition to payment processing and banking services, Mercury has startup tools such as Mercury Raise. This is a pitch platform designed for startups with 500+ investors. It gives startups a chance to get expert advice on investing, pitching, and more. 
Integrations
Mercury comes with integration options to make operations quick and easy. It comes fully integrated with QuickBooks and Xero accounting software to help you automatically sync your transactions. 
You can also integrate it with other accounting software like Stripe, Venmo, and PayPal, and it also lets you accept Amazon payments. 
Businesses that use Plaid can easily integrate it with Mercury for quick transfers and access all of their data right from a single dashboard. 
ATM Network
Mercury debit cards can be used at any of the 55,000+ Allpoint ATMs fee-free. These ATMs are located nationwide and also internationally.
Transaction Processing Time
All banks take time to process your money and transactions.
The transaction processing time in Mercury depends on the type of transfer you are initiating. Here are some most used incoming payment methods with their processing time. 
ACH transfer: 1-3 days
International ACH transfer: 3-5 days
Domestic Wire transfer: same day
International Wire transfer: 3-9 days
Check deposit: 7 days 
Customer Service
Mercury strives to support top-quality customer support via email. If you face any issue regarding account opening, payment processing, or any other, you can reach out to Mercury's customer support via email. 
They usually reply to your query within two business days. 
Besides this, Mercury has a knowledge base and help center designed to help you get your minor queries and confusions answered within a few clicks. You can also get your answers from videos & tutorials, the company blog, and social media. 
In social channels, you can expect a quicker response on Twitter. 
Though they have a few options to support customers, the FAQs and knowledge base of Mercury are quite extensive and answer a lot of questions usually asked by the users. 
Mercury App
Mercury has a mobile app available for both Android and Apple devices. The mobile app comes with more features like transferring funds and depositing checks.
Other benefits you get from the app include the ability to: 
See your total balance across all your accounts
Track transactions
View cash flow
Link with other company mercury accounts
Deposit checks in seconds
Manage your credit debit cards and spending
Shopping software? Check out our Ultimate list of Startup Tools to read reviews and recommendations on companies like Gusto, Jasper, Surfer, ActiveCampaign, and other tools used by venture-backed startups.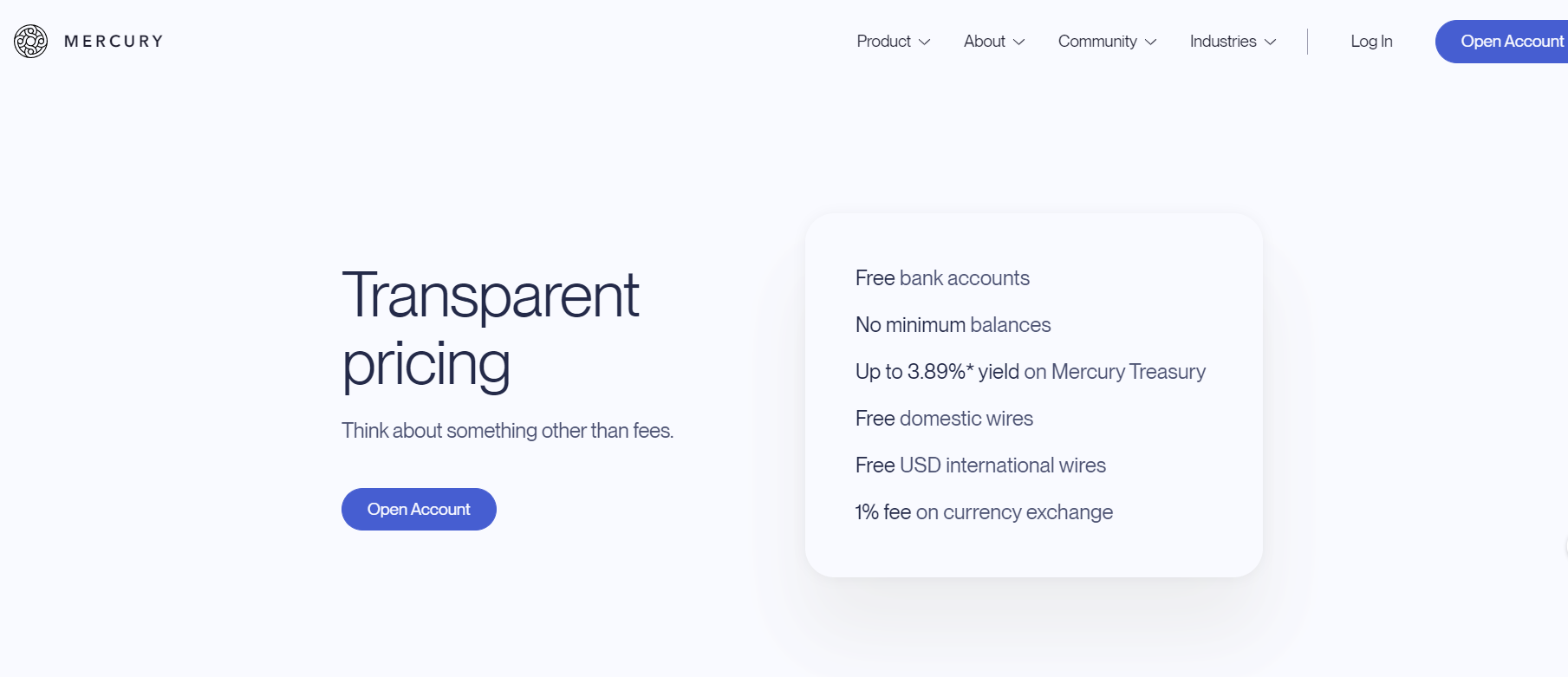 Mercury Bank Pricing
Mercury bank offers its service at no cost.
It is specially designed for startups where you need to think a lot about many things. With that, Mercury tries to get some load off of your head with its transparent and free services. 
With Mercury, you can:
Create free bank accounts with no minimum balance requirements
Process free transfers 
Lowest fees on currency exchange
No overdraft fees
Free company tools like transaction API access, team management, bookkeeper access, and payment management.
However, there's a fee for certain advanced features, like:
Making mass payments on mercury API
Treasury account management
Exchanging money in non-USD currency
With all these features in mind, you can try Mercury risk-free.
Mercury Bank Review Summary 
Mercury is a better way to do startup banking.
Mercury bank is specially designed for startups, and it has built a number of features to make things easier for startup founders and CFOs. To create an account, you must have a US-based startup. If you live outside of the US, your startup needs to be registered in the US.